Offer Lapatinib 231277-92-2 for antineoplastic, tyrosine kinase inhibitor with stable stock CAS NO.231277-92-2
FOB Price: USD: 750.00-850.00 /Kilogram Get Latest Price
Min.Order: 1 Kilogram
Payment Terms: L/C,T/T,Western Union,MoneyGram,Other
Available Specifications:

1(100-500)Kilogram1(500-1000)Kilogram2(1000-2000)Kilogram

Keywords
Offer CAS.NO: 231277-92-2 Lapatinib from own lab
Supply 231277-92-2 Lapatinib with best price
Sale 231277-92-2 Lapatinib for Lapatinib, used in the form of Lapatinib Ditosylate, is a potent EGFR and ErbB2 inhibitor with IC50 of 10.8 and 9.2 nM, respectively.
Quick Details
ProName: Offer Lapatinib 231277-92-2 for antine...
CasNo: 231277-92-2
Molecular Formula: C29H26ClFN4O4S
Appearance: white crystalline powder
Application: 231277-92-2 Usage Lapatinib Ditosylat...
DeliveryTime: Within 7 working days since received y...
PackAge: 1g;5g;10g;25g;50g;100g;500g;1KG;5KG or...
Port: China main ports
ProductionCapacity: 50 Kilogram/Month
Purity: 98% purity
Storage: Room temperature with sealed well
Transportation: BY SEA /BY AIR /BY COURIER
LimitNum: 1 Kilogram
Usage: Lapatinib Ditosylate (GW572016, GW2016...
Valid Period: 6 month
Certification: ISO/9001 Certificate
Superiority
1. ISO 9001 approved, GMP producing standard,Proffesional QA system, our quality is guaranteed.
2. Facotory direct sale, most comptive price ensured;
3. Audited Supplier on lookchem, No trick, No Scam!
4. Enough stock can make sure safe delivery.
5. Complete before and after sale service, welcome your questions and glad to help.
Lapatinib
CAS No: 231277-92-2
Purity: ≥98%
Structure type: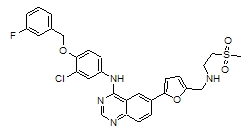 Details
Lapatinib
CAS No: 231277-92-2
Purity: ≥98%
Structure type: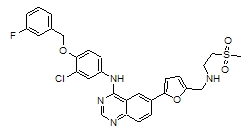 Product Name:
Lapatinib
Synonyms:
lapatinib;n-[3-chloro-4-[(3-fluorophenyl)methoxy]phenyl]-6-[5-[(2-methylsulfonylethylamino)methyl]-2-furyl]quinazolin-4-amine;4-Quinazolinamine, N-[3-chloro-4-[(3-fluorophenyl)methoxy]phenyl]-6-[5-[[[2-(methylsulfonyl)ethyl]amino]methyl]-2-furanyl]-;Lapatinib(TINIBS);N-[3-Chloro-4-[(3-fluorophenyl)methoxy]phenyl]-6-[5-[(2-methylsulfonylethylamino)methyl]-2-furyl]quinazolin-4-amine;Lapatinib Base N-[3-chloro-4-[(3-fluorophenyl)methoxy]phenyl]-6-[5-[[[2-(methylsulfonyl)ethyl]amino]methyl]-2-furanyl]-4-Quinazolinamine;N-(3-chloro-4-((3-fluorobenzyl)oxy)phenyl)-6-(5-(((2-(methylsulfonyl)ethyl)amino)methyl)furan-2-yl)quinazolin-4-amine;4-[[3-Chloro-4-(3-fluorobenzyloxy)phenyl]amino]-6-[5-[[(2-methanesulfonylethyl)amino]methyl]furan-2-yl]quinazoline
CAS:
231277-92-2
MF:
C29H26ClFN4O4S
MW:
581.0575432
EINECS:
Product Categories:
Molecular Targeted Antineoplastic;anti-neoplastic;Pharmaceutical intermediate;APIs;API;Lapatinib;Anti-cancer&immunity;Inhibitors
Mol File:
231277-92-2.mol
Lapatinib Chemical Properties
Lapatinib Usage And Synthesis
New drugs targeted therapy in breast cancer
Lapatinib is developed by the British company GlaxoSmithKline,it is a breast cancer targeted therapy drug,it is a tyrosine kinase inhibitor, which can inhibit the human epidermal growth factor receptor -1 (ErbB1) and human epidermal growth factor receptor -2 (ErbB2) tyrosine kinase activity. It is unique because it can play a role in a variety of ways, so that the breast cancer cells can not receive the desired signal for the growth . The mechanism is inhibiting the ATP site of intracellular EGFR(ErbB-1) and HER2 (ErbB-2) to prevent phosphorylation and activation of tumor cells, blocking down signal by EGFR (ErbB-1) and homogenous HER2 (ErbB-1) and its heterodimer.
Breast cancer molecular targeted therapy aims at the occurrence and development of cancer-related genes and their expression products of breast cancer for treatment. Molecular targeted drugs by blocking signal transduction of tumor cells or associated cells , control changes in cell gene expression, in order to inhibit or kill tumor cells.
March 14, 2007, the US Food and Drug Administration approved lapatinib in combination with Xeloda (capecitabine) for the treatment of human epidermal factor receptor 2 (ErbB2) overexpression and treated by anthracyclines, paclitaxel and trastuzumab patients with advanced or metastatic breast cancer.
Clinical trials have shown that for those HER2 type breast cancer patients who are resistant to Roche's Herceptin , the product also has very good clinical results.
Lapatinib is a novel targeted anti-cancer drug. It Can act on Her-1 and Her-2 two targets at he same time, the biological effect of the inhibition of tumor cell proliferation and growth arising from this mode of action is much larger than acting on just one target. The so-called targeted therapy, refers to certain receptors, genes or proteins as a key target, and then targets to kill tumor cells related to drugs.
Human ErbB receptors belong to the type I receptor tyrosine kinase (TK) family. It includes ErbB1 (EGFR), ErbB2 (HER2), ErbB3 (HER3), and ErbB4 (HER4). Cancer patients ErbB-1 (EGFR) and ErbB-2 (HER-2) receptors are usually over-expressed or other changes occur on them. Currently known human epidermal growth factor receptor -2 (ErbB-2, HER-2) is a clearer understanding human cancer gene which is closely related to breast cancer .its highly expression in breast cancer often precedes that it is easy to metastasize to lymph nodes and it is poorly differentiated , its prognosis is not good. With the in-depth study of HER-2 , it has become one target molecule of the breast cancer-specific therapy.
The above information is edited by the Chemicalbook of Tian Ye.
Usage
Lapatinib Ditosylate (GW572016, GW2016, Tykerb, Tyverb) is a potent EGFR and ErbB2 inhibitor with IC50 of 10.8 and 9.2 nM, respectively.
Usage
Lapatinib, used in the form of Lapatinib Ditosylate, is a potent EGFR and ErbB2 inhibitor with IC50 of 10.8 and 9.2 nM, respectively.
Usage
antineoplastic, tyrosine kinase inhibitor